Saturday, February 26th, 2011
Technology is an amazing thing. Thanks to the awesomeness that is the internet, I've discovered a passion for blogging, photography and social media. And thanks to modern technology, I've also had the pleasure of meeting like-minded folks around the world who share my passions as well; folks I would have never had the opportunity to meet had the internet not existed. Folks like today's guest blogger, Alicia from A Beautiful Mess.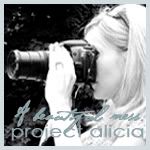 Lish and I became fast friends last year and I totally owe the wonderful world of blogging for the friendship we share. Lish is kind and sweet and amazingly talented behind a camera lens. She's also very honest in her writing approach, oftentimes pouring her heart and frustrations into her blog posts. She has a way of making me and so many others feel like we're not alone in this crazy, messy life and I really love that about her.
You know what I also love about Alicia? That she's guest posting for me today so that I can run around town and enjoy this last weekend before my best friend Lana returns to Hawaii. Because there are some needs in life that technology just can't satisfy – the need for family and friends to connect in person from time to time.
So while I'm off connecting with my best friend, head on over to Alicia's and tell her that I can't wait to connect with her in person some day as well.
………………………………..
33 years ago when I was just a kid I watched this crazy show called the Jetsons. I often marveled at the amazing world that they lived in. The high tech mode of transportation they used. The robotic contraptions. The holograms. It seemed like nothing more than a wild imagination at play.
Now skip forward 15 years.
At the age of 19 I lived in Orlando, FL where my husband attended the Naval Nuclear Power school. I often found myself alone, most days until 11 or 12 PM.
At the age of 21 I lived in Washington state where my husband was gone for extended periods of time on a nuclear submarine. I kept busy with work and school, but my nights were lonely. The deployment phase of my life lasted for many years.
At 26 years of age I welcomed my first born child into the world. After a near death experience, a colicky baby, and many sleepless nights, I often felt alone.
Today I am living in Cedar Rapids, thousands of miles from most family and friends. My children are in a more independent stage of life, and my husband often works crazy hours at the power plant. I still find myself alone often.
But unlike the other times in my life, new technology now allows me to reach out and connect with other like-minded people across the world.
I often think how much it could have helped me through those lonely Orlando days or those long deployments. Even those new mommy moments may have been less overwhelming and lonely had I an outlet to share with others in similar circumstances.
In this century we are blessed to not only have the internet, but social networks are also readily accessible with the push of a button. Smart phones make Facebook, Twitter, emails, and blogging easier than ever before.
I can chat with my new found blog friend from the comfort of my bed. I can update my tweets from any location. I can even send photos over the cyber wires in mere seconds with my handy phone.
It is indeed a unique day and age that we live in.
I have made some amazing friendships through the world of blogging. Relationships that I would have never imagined or thought possible just 5 years ago.
My friend Kristi from Live and Love Out Loud is one of those said friends. We have recently talked on the phone for the better part of a Saturday as she sacrificed time with her family to help me with blogging issues. She is just as nice as she appears on her blog and I hope to one day meet her in person.
That once far-fetched unbelievable world the Jetsons lived in has become my own reality in many ways.
Encyclopedias have been replaced with a cyberworld chock-full of information. Rotary dial phones are now a thing of the past, replaced by handheld smart phones that are portable and functional in almost any location in the world. Microwaves now make cooking a cinch. And modes of transportation are continually improving making travel easier and more desirable than any decade prior.
And although this reality has it's downsides, it is also one filled with amazing perks and opportunities. I am thankful that my children are able to grow up with all of these modern day technological advancements.
I can't see what lies ahead in the not so distant future, but I know that technology will only continue to improve with time.
Jetsons, watch out. The gap is narrowing.